Best android offline browser. We already know that there are many great browsing apps for when you have a data connection. But what if you need your GPS location when you are offline?
Offline GPS is a vital feature for any map app. You will use it if you are exploring a foreign city and have data roaming disabled or if you are driving in a dead zone on a road trip.
Here are the best free offline GPS apps for android.
Best android offline browser
Google Maps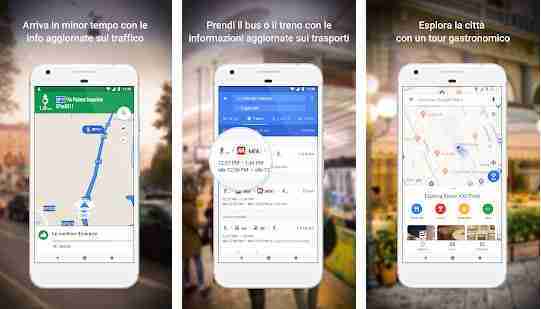 Google Maps offers a way to download and save regional maps for offline use - you just need to prepare a little before you leave the house.
To download a map, tap the menu Other (three horizontal lines) in the upper left corner, then select Offline maps . Google will recommend some maps to download based on your home and frequent locations. You can also touch Select your map to download another area.
The app automatically deletes all downloaded maps after 30 days without an internet connection.
Download: Google Maps (free)
Sygic GPS
Sygic is the most installed offline GPS app in the Google Play Store. The company has an agreement with TomTom, which allows it to provide offline maps for all countries of the world.
Other noteworthy features are free map updates, voice guided GPS navigation, and GPS navigation for pedestrians when on foot.
The app can also help you save money. If you have an internet connection, it will automatically notify you of the nearest parking and petrol stations nearby, as well as provide information on upcoming speed cameras.
Sygic offers both a free version and a paid version. You can try the paid version for seven days when you first download the app.
Download: Sygic GPS Navigation and Offline Maps (Free, subscription available)
OsmAnd
OsmAnd is another popular map app that works offline. There is also an online mode for times when you have a reliable data connection.
The GPS part of the app has a number of key features. They include voice guidance, live estimated arrival times, day / night screen mode.
There is a paid plugin that shows route maps for many of the most famous locations in the world.
Download: OsmAnd (free free version available)
MAPS.ME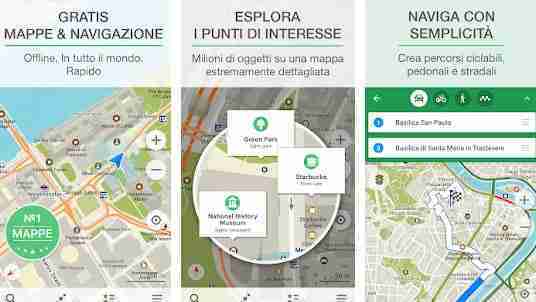 MAPS.ME is a complete free GPS app. If you need offline browsing, this is definitely worth a try.
In offline mode, you can enjoy a full search function, voice navigation, redirect calculation and public transport. You'll also see restaurants, ATMs, and places of interest. If you're online, you can share your location with friends, add bookmarks, and even make hotel reservations without leaving the app. This makes it a great Android app for traveling
The maps are updated by OpenStreetMap and are entirely open source.
All maps and features will be free forever. MAPS.ME is ad supported and you can pay to remove it.
Download: MAPS.ME (free)
MapFactor
MapFactor is another great free GPS app for Android.
When you first open the app, you will be prompted to download maps for offline use. This is because there is no online map function here. Instead, the app offers more than 200 individual independent maps to choose from, including 56 in Europe and 53 in the Americas.
The maps are organized by country, but densely populated areas have sub-regions. You can also find speed camera maps in certain areas. Each map extracts its data from OpenStreetMap.
Download: MapFactor (free, premium version available)
QUI WeGo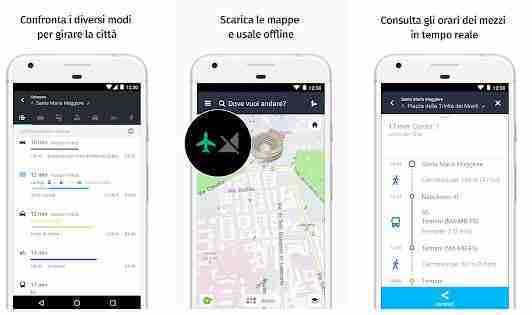 HERE WeGo is another app specialized in offline GPS navigation. Offers offline maps for over 100 countries.
Offline maps include driving directions, public transport ticket prices, car-sharing prices, and train and bus timetables.
When you enter your route, the app will compare car, bike, pedestrian, taxi and public transport routes to find the fastest and cheapest way to make the journey. It will let you know if your journey is mostly uphill or downhill.
You can access public transit information for more than 1.300 cities around the world, including most of North America and Europe.
Download: QUI WeGo (Free)
CoPilot GPS
Car navigation is the main focus of CoPilot GPS.
The app excels at route planning. For each trip, it offers you three separate options. And for each of the three routes, you can add up to 52 different waypoints.
CoPilot also has thousands of offline locations such as hotels, restaurants, ATMs, and places of interest. You can use the search function to find them even if you are in offline mode.
You can enjoy a seven-day free trial of the premium features. These include 3D maps and an audio navigation assistant. Once the trial period expires, the app limits you to 2D offline maps and visual turn-by-turn directions.
Download: CoPilot GPS (free, subscription available)