Let's find out how many laps are needed to reach the Platinum of the new simulation on two wheels.
RaceWard Studio has chosen to debut in the video game industry by launching immediately on crowded tracks for lovers of two wheels. Assisted by Nacon and Bigben Interactive, the boys have indeed released RiMS Racing per PlayStation 4, PlayStation 5, Xbox One, Xbox Series S, Xbox Series X, Nintendo Switch e PC. It is a motorcycle simulation title that allows enthusiasts to choose between eight distinct motorcycles and compete along fifteen circuits, taking particular care of their vehicle..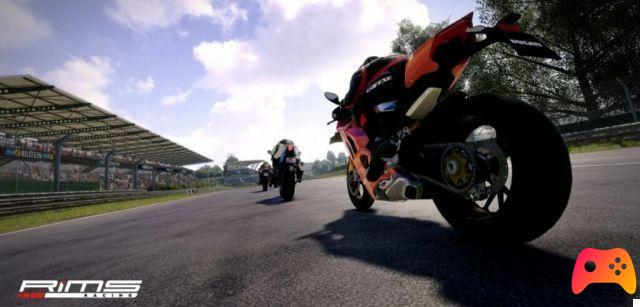 The PlayStation version of RiMS Racing consists of 42 trophies in total, distributed between 28 bronze, 9 silver, 4 gold and the inevitable Platinum. The secret to trying to grab them all is relatively simple, which is to hit the track and play, customize your experience and train, even with a few falls along the way. Below we list all the trophies of the PlayStation 4 and PlayStation 5 editions of RiMS Racing:
BRONZE TROPHIES
Born to win - Unlock the 4 MV Agusta F2019 RC
Louder than thunder - Unlock the Aprilia RSV4 1100 Factory 2020
Flying over the asphalt - Unlock the BMW M 1000 RR 2021
The best people ... - Unlock Honda 2019 CBR1000RR ABS
Like that guy from Urbino - Unlock 1 Yamaha YZF-R2020
Il Ninja Verde - Unlock the 10 Kawasaki Ninja ZX-2019RR
Strong as Ti 22 - Unlock Suzuki GSX-R1000R 2019
Straight Outta Borgo Panigale - Unlock the Ducati Panigale V4 R 2020
Of humble origins - Complete 5 Career Events
The Great Spender - Buy 100 motorcycle parts at full price
I love the mall - Buy 30 Pilot gear
Uncle Scrooge would be proud - Buy 30 Discounted items
Spring cleaning - Sell 80 motorcycle parts
The team needs you - Complete 20 Headquarters Area Objectives
Fashion addicted - Change the Pilot's equipment at least 20 times
The mechanic - Assemble or disassemble 150 components from your bikes
Complete revision - Change, at least once, every component from one of your bikes
The Analyst - Log in to the CSM at least 50 times
Competing against Barry Allen - Reach 300 km / h (186 mph)
Running away from a coyote - Go from 0-100 km / h (62 mph) in under 6.5 seconds
Luckily it's just a game ... - Fall at least 5 times
Wanting is power - Finish an Event with tires and brake pads in Critical Condition
Business travel - Complete an Event on all Tracks (Circuits and Roads) in the basic version of the game
Neither the heat nor the darkness - Complete an Event in all possible weather conditions in the basic version of the game
All-round - Complete an Event in every possible asphalt condition in the basic version of the game
Practice makes perfect - Guide for a total of 2 hours in Private Test
Master of Challenges - Complete 10 Online Challenge Events
The Wrangler - Complete 10 Online Custom Events
SILVER TROPHIES

Now we are thinking! - Complete 25 Career Events
It is not the end - Complete a season in the Career
I'm legend - Reach Pilot Level 50
Living catalog - Purchase a component for each category
Accuracy is close to divinity - Purchase all engineering skills
Knowledge is power - Purchase all skills in the Research Area
A question of money - Purchase all the skills of the Area Management
One Man Team - Fill at least 8l (2.11gal) of Fuel and change tires in less than 00: 25.000 at the Pit Stop
The star - Reach Renown Level 50
GOLD TROPHIES

Globetrotter - Complete 50 Career Events
Long live the king! - Win the RiMS World Championship
Full optional - Purchase all the Skills of the Headquarters Areas
The Academician - Collect all Golden Helmets in Academy Events
PLATINUM TROPHIES

The Ruler of Motion - Unlock all trophies
And with this latest trophy you will have collected all 42 of the RiMS Racing cups available. Good hunting and good running, completists!
► RiMS Racing is a racing-Simulation-Sport type game developed by RaceWard Studio and published by Nacon Bigben Interactive for PC, PlayStation 4, Xbox One, Nintendo Switch, PlayStation 5 and Xbox Series X, the video game was released on 19/08/2021
RiMS Racing is a nice game that we recommend: we have decided to evaluate it with a 70%, if you are interested in learning more you can read the RiMS Racing Review.