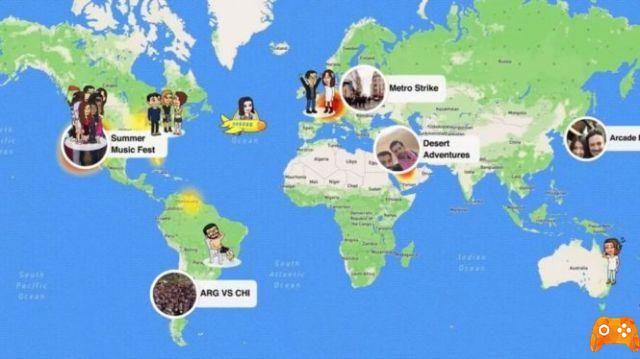 Snap Map is Snapchat's new feature that allows you to locate the places where your friends are using a map. This option also allows you to view their photos and follow all the news from around the world.
Unable to connect to Snapchat. What to do?
Before you start using Snap Map, don't forget to update your Snapchat app.
To start Snap Map:

Just open the app and place both fingers on the screen to perform a pinch gesture.

Once the map is open, the application will offer different location options (yours): "Visible to all my friends", "Only me", "Choose friends" ... When you have made your choice, click on "Next" .

You are now in the "History" section, choose then click "Finish" to confirm.

To complete your setup, click on the circle which will allow you to view your location and that of all your friends.

You can also view other stories by clicking on the search bar above.

There are other options for changing your privacy settings. Just tap the "Settings" symbol at the top of the page, then activate ghost mode and choose "My friends" or "Select friends".

To add photos to Snap Map, tap the camera icon and take photos. You can also add filters before taking photos.

Finally, tap the blue arrow and select "Our Story" to share with your friends.
Snapchat: how to save photos and videos? iOS and Android
Further Reading:
How to share a YouTube video to Snapchat
How to change Snapchat username
How to take a Snapchat survey
How to slow down a video on Snapchat
How to Cameo on Snapchat