Many users spend hours playing games on their mobile devices. In the Google Play Store there are a large number of them and of all kinds. This time we offer a list of best puzzle games for android and that you can also have fun on iOS.
A list of puzzle games known and others you may not have heard of. They are ideal games to have fun in those moments of the day when you have little time, while waiting for the bus or in the waiting room for a medical consultation, for example. Here we leave you with 9 best puzzle games for Android that you have to try.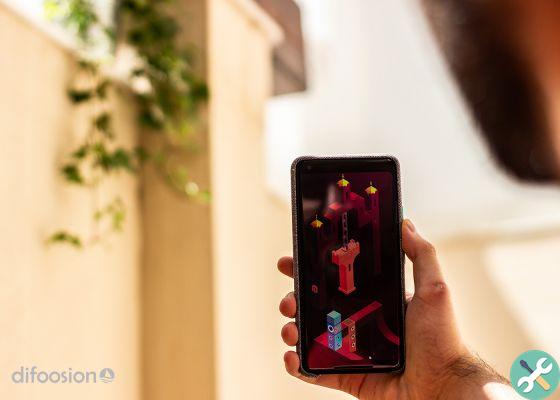 Monument Valley, a puzzle game that you absolutely must try.
The 9 best puzzle games for Android (2021)
Monument Valley
Where is my water?
Goo world
Angry Birds 2
Lara Croft GO
Cut the rope
Candy Crush Soda Saga
Deus Ex GO
Dragon Ball Z Dokkan Battle
Monument Valley
Monument Valley is one of the highest rated indie games in the video game industry. A title that will make you exercise the mind while experiencing a great adventure, as it consists of guiding a princess by manipulating all the architecture that appears along the way. In addition, it stands out for having beautiful graphics with attractive settings and colors.
Where is my water?
Where is my water? is an addicting puzzle game developed by Disney. A title where you have to help the Swampy crocodile fill his bathtub with water through some challenging levels. It is an addicting physics-based intelligence game with realistic mechanics whose goal is to guide different types of water in different scenarios.
Goo world
World of Goo is another popular puzzle game, it has even won the 'Game of the Year' title several times. A game where you have to drag and drop the sticky balls to build bridges, structures, airships, giant tongues and cannonballs. All this while experiencing an adventure divided into five chapters with different levels, graphic and musical themes; and where you will find new species of sticky balls with unique abilities.
Angry Birds 2
Angry Birds 2 is the second installment of one of the mobile video games most popular ever. A title in which, following the tonic of the first, you have to use the slingshot to throw birds into the pig towers and shoot them down, all to save the precious eggs. All this with birds with different abilities, multiphase levels, daily challenges, clans, competitions against other players and much more.
Lara Croft GO
Lara Croft GO is one of the games in the popular saga that has become the most popular among gamers. A mobile title developed by Square Enix which offers different gameplay than seen in other games in the series. It's a puzzle game where you have to take turns moving Lara Croft, as if she were a board game. Avoid obstacles, advance and manipulate the environment to evoke various elements of the franchise, such as rock chases.
Cut the rope
Cut the Rope is another popular game where you have to use logic and strategy. A title that tells the story of a green Martian to whom like candy and sets off on an adventure in search of them. The objective of this game with 2D graphics is to help this Martian overcome the obstacles presented to him using the environment and get him to eat the long-awaited candy.
Candy Crush Soda Saga
Candy Crush Soda Saga is one of the most popular mobile games of all time. A puzzle game that features a puzzle adventure where you have to accompany Kimmy on her journey to find Tiffi. To do this you will have to make your way by swapping and combining candies through new dimensions full of magical mechanics. A title to enjoy alone or with friends.
Deus Ex GO
Deus Ex GO is a game similar to Lara Croft GO, also developed by Square Enix Montreal. It's a puzzle game a shifts where you have to infiltrate enemies and put yourself in Adam Jensen's shoes. Your goal: to solve a wide variety of challenges.
Dragon Ball Z Dokkan Battle
Dragon Ball Z Dokkan Battle is a game developed by Namco Bandai Games available for both Android and iOS devices. A free game that combines strategy and puzzles, and with which to create your own team of warriors and face the characters of the popular serie Dragon Ball. All this without paying a single euro and from your smartphone.