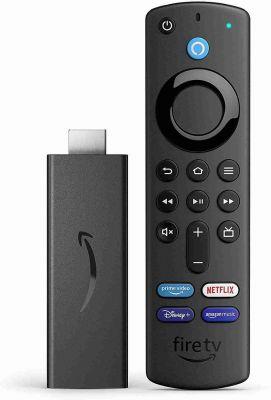 With so many streaming platforms, you need a way to make it easy to access your favorites. This is where the Amazon Fire TV Stick comes in. Whether you have a smart TV with apps or not, adding this device can give you access to even more options. The only tricky part is choosing which model is right for your needs.
What is an Amazon Fire TV Stick
Fire TV Stick is a streaming video player that allows you to install various streaming apps, such as Netflix, Disney +, and Prime Video of course. You'll also need to plug it into an available USB port or power outlet to provide power. A USB cable and plug are included with each model.
Think of the Amazon Fire TV Stick as a portable smart TV - without the screen of course. It's a small, portable device that looks like a larger USB stick that plugs into your TV's HDMI port. It connects to your Wi-Fi network to make streaming easier.
The Fire TV Stick tends to update more often than smart TVs and offers a larger catalog of services and apps to choose from. There are currently tens of thousands of them, although you will never need them. You can also access Alexa skills and some apps from the Amazon app store, such as games.
With the release of new platforms / services, you may find them immediately on the Fire Stick or it may take months.
Once installed on your TV, the apps you want are downloaded and you can access them just like you would with TV stations. Use the included remote to navigate and even talk to Alexa - it's an Amazon product after all.
To best suit individual needs, there are four main models of the Amazon Fire TV Stick in different price ranges and with different features.
Fire TV Stick Lite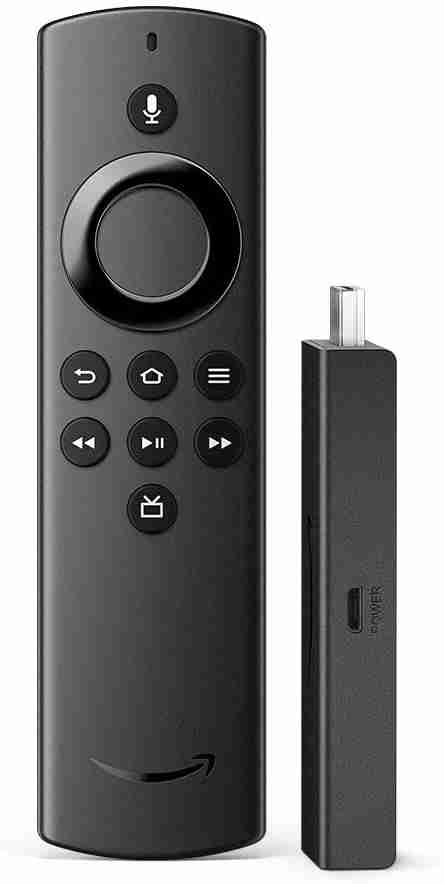 The Fire TV Stick Lite is the cheapest model, it is the perfect entry-level streaming stick. It includes Alexa Voice Remote Lite, which is the nifty way of saying you can't control your TV's volume or inputs with it. You can still press the microphone button to talk to Alexa to search, change channels, or even interact with other Alexa-compatible devices.
There is plenty of room to store apps / platforms with 8GB of storage. The 1,7GHz processor, 1GB memory and 650MHz GPU bring you smooth video performance.
Vedi offers your Amazon
Fire TV Stick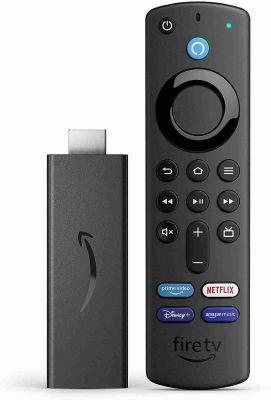 Overall, the Amazon Fire TV Stick is the best option for most streamers and cable cutters. It is affordable but has a much better remote control than the Lite version. At the time of writing, the current version (3rd generation) is 50% more powerful than previous versions, so it's a good time to upgrade if you have an older model.
The remote adds controls for TV / soundbar volume and TV power. You also have four shortcut buttons for Prime Video, Netflix, and Disney +, which is handy if you have these services. Alexa voice control is also included.
You get the same amount of storage as the Lite with 8GB. The 1,7 GHz processor, 1 GB memory and 650 MHz GPU are also the same, ensuring a smoother streaming experience.
Vedi offers your Amazon
Fire TV Stick 4K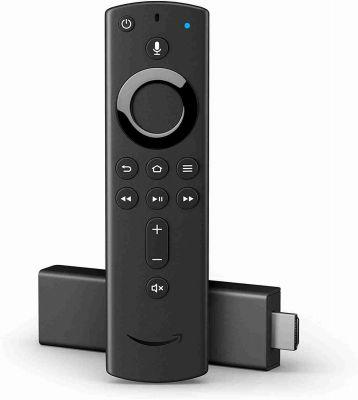 If HD isn't good enough, you'll definitely prefer the Amazon Fire TV Stick 4K. As the name suggests, you'll upgrade the video quality with support for 4K Ultra HD, Dolby Vision, HDR, and HDR10 +. There's also Dolby Atmos audio support for richer sound along with stunning video quality.
The remote includes Alexa voice control and TV power / volume controls. However, the shortcut buttons are missing for some odd reason.
The specs are similar to previous models with 8GB of storage, 1,7GHz CPU and 650MHz GPU. However, the memory has increased up to 1,5GB.
Vedi offers your Amazon
Fire TV Stick 4K Max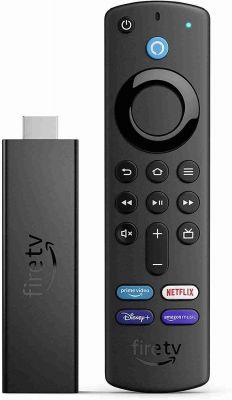 When you want it all, don't settle for less than the Amazon Fire TV Stick 4K Max. With the "max" in the name, it must be awesome, right? It is actually quite impressive. It offers 40% more power than the 4K model, making loading and switching between apps and titles faster than ever. It has full support for 4K Ultra HD, Dolby Vision, HDR and HDR10 +.
The remote looks more like the standard Fire TV Stick with four presets for Prime Video, Netflix, Disney +, and Hulu. There are also TV controls and Alexa voice control. An added bonus is the picture in the live picture, so you can ask Alexa to check the security cameras or your Ring doorbell and watch the video without leaving your favorite TV show or movie.
The specs are also noticeably better. Although there is still only 8GB of storage, the memory increases to 2GB. The CPU goes to 1,8 GHz and the GPU to 750 MHz.
Vedi offers your Amazon