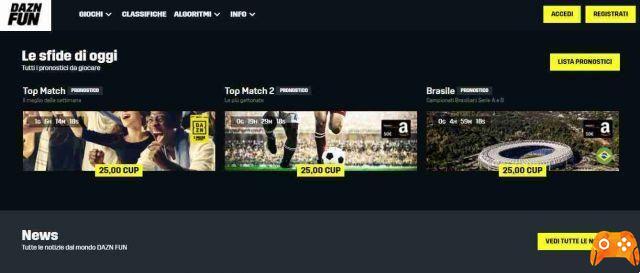 DAZNFUN.com is a new entertainment platform that aims to involve the community of fans, making them play in a competitive and fun context.
HOW TO JOIN DAZN FUN
The player's path is very easy and intuitive. The first step is to sign up.
At the time of registration, the user automatically receives 1.000 CUP, the points that allow you to access and participate in the games, and can immediately start having fun to accumulate others by choosing from the games available:
Game Prediction
Palimpsest Game
Game Challenge between users
So the basic concept is simple: the more you win, the more CUPs you accumulate, the more you play.
To register, simply go to DAZNFUN.com, click on "Login" and follow the directions in the menu. Attention: those who are already subscribers to DAZN.COM will still have to create a new account on DAZN FUN.
DAZN FUN games allow you to predict the results of numerous European and international leagues including Serie A TIM, LaLiga, UEFA Europa League, UEFA Conference League without forgetting the Premier League, Ligue1 and many others. It is played only through CUP, that is the points with which to access and participate in the games.
The games available on DAZN FUN are free and allow you to win numerous prizes: DAZN prepaid codes or Amazon vouchers that can be obtained through the conversion of points (CUP).
PRONOSTIC GAME: HOW IT WORKS
There are 8 events to predict as well as an exact result which counts as a wild card event. The winner is the one who first guesses 8 Jokers, but CUPs (points) are also collected with 8, 7 and 6 or even hitting only the Jolly event.
Each prediction requires the use of CUP and participation also guarantees access to the weekly and monthly rankings. From time to time you will find indicated the amount of CUP that can be obtained for the various winning combinations.
PROGRAM GAME: how it works
The "Palimpsest" Game allows you to decide your predictions, choosing the events to predict from all the leagues available.
CHALLENGE BETWEEN USERS: how it works
In "Challenge between Users" you can challenge the competitors' predictions and collect their CUPs if they are wrong.
Warning: all players can "challenge" the plays of others in the Palimpsest Game and earn the opponents' points.