Unlike the previous chapters, in Forza Horizon 5 there is a real adventure mode, consisting of several performances. Each performance is linked to a certain type of race and in this guide we explain how to unlock these performances in order to continue in the "plot" of Forza Horizon 5.
As soon as you take your first steps in Mexico created by Playground Games, you will have a first unlock available after finishing the first and only races that will be proposed to you. After completing this first guided phase you will be free to do what you want and to be able to continue during the various adventure exhibitions you have to respect some criteria. There will be a completion bar with the amount of points needed in order to get a new adventure unlock.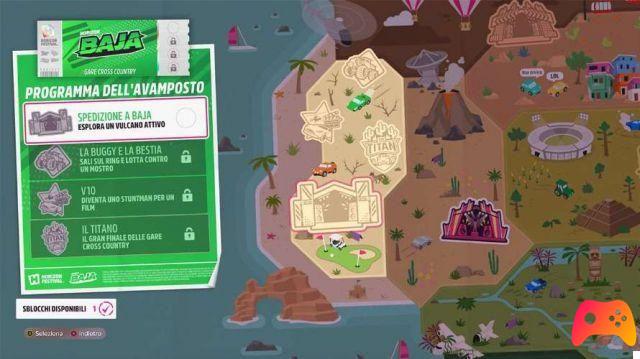 You will therefore have to try to earn as many experience points as possible. Priority can certainly be given in competitions, they will give you the greatest number of experience points while not always coming in first position (although obviously, finishing first will grant you the most points). Another tip is to explore as many areas as possible, as even the simple discovery of roads will provide you with not indifferent bonuses. Finally, the completion of all the activities that you will find in your vicinity like speed cameras or drifting challenges found in Forza Horizon 5.
► Forza Horizon 5 is a running-Sport type game developed by Playground Games and published by Xbox Game Studios for PC, Xbox One and Xbox Series X, the video game was released on 09/11/2021
Forza Horizon 5 is a game to own at all costs: we decided to evaluate it with a 95%, if you are interested in learning more you can read the Forza Horizon 5 Review by Federico De Santis.