Telegram is one of the most used messaging apps of the moment and owes its "luck" to its great versatility and attention to privacy, as well as its many additional features, which make it unique and much more complete than the competition.
You too have decided to install this application on your smartphone and test it for some time. You registered, but now you have a problem: you do not know how to add a contact in Telegram. So let's see how to do it.
index
How the address book works in Telegram
How to add a number in Telegram
How to add a contact in Telegram without a number
How to invite a contact to a Telegram group
How to add a Telegram bot
How to find unknown contacts in Telegram
How the address book works in Telegram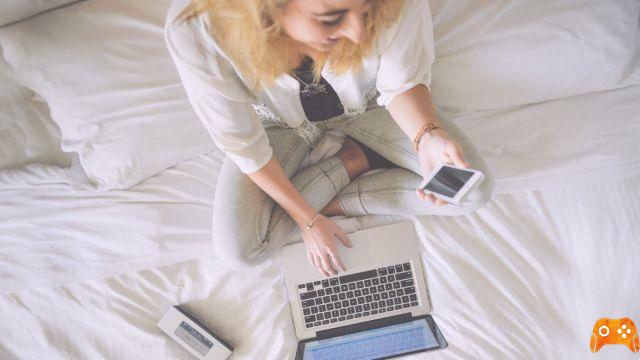 In Telegram it is possible to add contacts through the phone number. The phone number is essential to subscribe to Telegram and, to the same, it is possible to associate a single account to it.
When you log in to the application for the first time, Telegram asks you permission to access the phone directory and, if granted, the application performs a synchronizzazione registered numbers. These will be automatically added in Telegram contacts. Obviously, provided that these numbers are already registered on Telegram.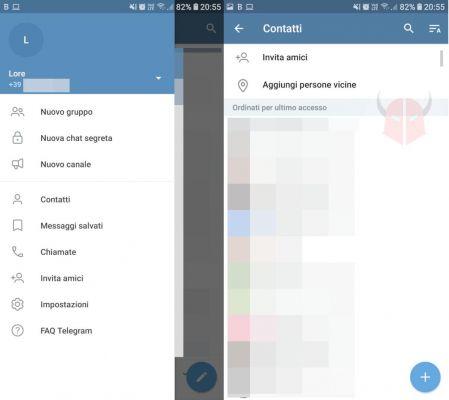 By accessing the list of Telegram contacts, you will have to select the menu that you find in the upper left corner, marked with the icon of three horizontal lines. Immediately after that, you should choose the Contact option.
Then you will see all names of people registered in Telegram whose number you know. Let's now see how to add new ones.
How to add a number in Telegram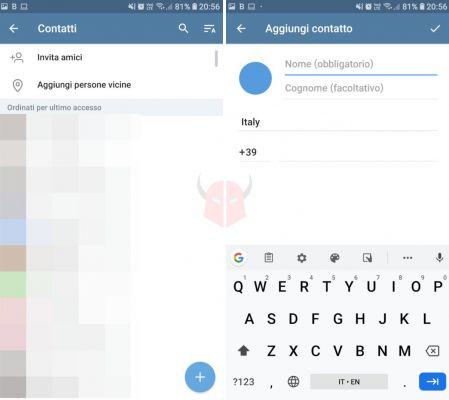 For adding a phone number to Telegram, you have two possibilities:
Save the number in the phone book and then view it in Telegram thanks to automatic synchronization;
Add the number directly from Telegram.
To register a number through the phonebook, all you have to do is create a new contact in the address book and then access the Telegram contact list. You will then find the new profile, added through synchronization.
If on the other hand you do not want or in any case you can not save the number in the address book, perhaps because you are using Telegram from a PC, tablet or secondary device connected to your account, do not worry. As I told you, Telegram still gives you the possibility to save contacts directly, without going through the address book.
To do this, you will have to search for the desired phone number in the Telegram search bar (located at the top right). It allows you to do a global search among all users who are subscribed to Telegram.
Once you have entered the number, preferably in international format, therefore with the prefix +39, Telegram will show you a single account corresponding to the number you entered. At this point, you will need to tap on theuser.
This will open a conversazione screen, as if you were going to start chatting with that person. If you want, you can do this without even saving the contact. But in order not to lose that chat, it might be better to add the number to contacts.
To store a number in Telegram, you'll need to do a second tap on the username at the top of the conversation screen. Immediately after that, you'll need to tap on three dots found in the top right corner.
A drop-down menu will open containing three items: Add contacts, Block user and Add to home. Simply choose the first option, type the contact name and confirm the operation to dial the number both in Telegram and in the address book of your iPhone or Android smartphone.
How to add a Telegram contact without a number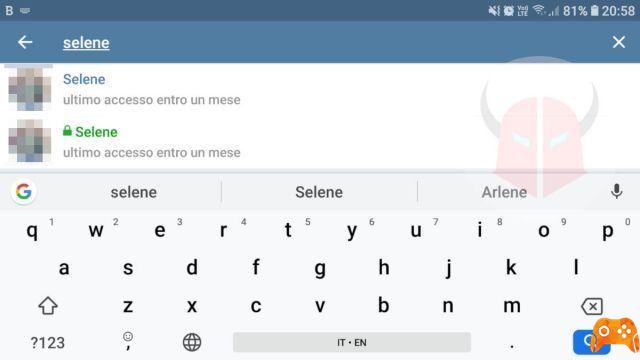 One of the peculiarities of Telegram is the ability to chat with users whose nickname you just know. In this paragraph, in fact, I will explain what you must do to add a contact on Telegram without using the number.
The procedure to follow, on this occasion, is only one, both for the app and for Telegram Web.username of this person, that maybe you can find in a group, in a public channel or, more simply, has been communicated to you by the person in question.
In all possible cases, if you know the username, simply type it in the search bar. In doing so, Telegram will suggest all results related to this item, whether they refer to groups, bots or individual users. In any case, by correctly typing the full username, the profile of the person you are looking for will appear in the first result, because it will be the most relevant to your search.
Once you have searched for the contact, you will have to tap on their Profile to enter the chat. Then, you will have to tap on their name (which appears at the top) to enter the information. At this point, you will have to select the three dots (top right) and choose the Add contacts option.
By doing so, you will have added the contact on Telegram and you will be able to find him in the app's address book. Or even, if you had already sent him a message, among the started chats.
How to invite a contact to a Telegram group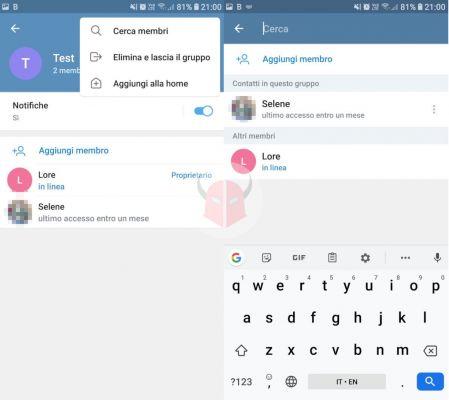 Let's now see how to invite a contact to a Telegram group. If you don't know what Telegram groups are or how they work, I refer you to this guide where I talk about them in detail.
However, to add a user to a Telegram group, it is important that the multiple chat is open or you are the administrator of the same. In fact, only in public groups participants can invite other users.
To add new users to your group, you will need to enter the chat and tap the Group name (located at the top of the screen).
Next, you will need to choose Settings> Search for members and then select the Add member option. Here, Telegram will give you two options to add new participants to the group:
direct invitation
Invite link.
In the first case, you will only be able to invite users whose number saved in the address book. In the second, however, you can invite anyone. Just choose the Invite to group via link option and copy and paste the link to the group in a single conversation, even from WhatsApp, Messenger or Instagram. It will be enough for the other contact to tap you to join the chat.
How to add a Telegram bot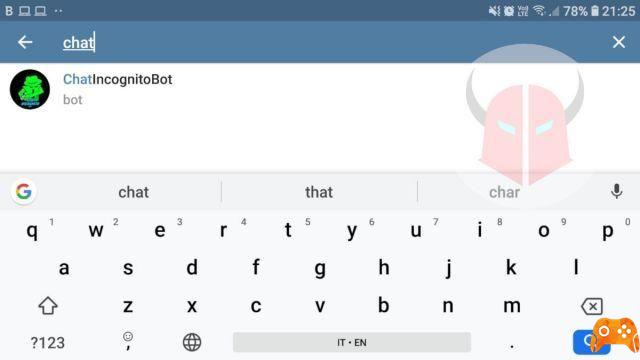 I Bot of Telegram are add-ons, or rather, applications for Telegram that, through special commands, provide additional functionality. Anyone can create or run one.
For adding a bot in Telegram, you will need to know its username and save it after searching for it in the app, as I showed you before. Once you have registered and started the bot in your Telegram app, you can control it using i commands suggested in the caption (usually highlighted in the chat).
If you don't know which bot to add, you may be able to find one for your purposes using Google search. Alternatively, you can check out my guide to the best bots for Telegram.
How to find unknown contacts in Telegram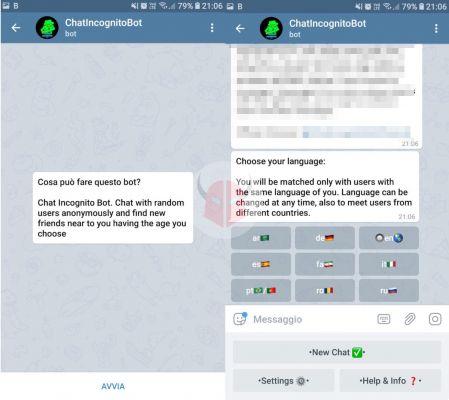 For finding unknown Telegram contacts, there are three different options. In detail, you could:
Search for them on forums or special sites.
Search for names and random words in the search bar.
Using bots for anonymous chats with random users.
I do not recommend you to follow the first option, because, very often, the contacts that are on the web have been entered without your knowledge by other people. Or they may even be usernames that no longer work, as you can change the username at any time.
The second option is a bit more cumbersome and may not yield great results. Again, I don't recommend going this route, because not everyone likes anonymous strangers communicating with them on Telegram. And the chances are very high that the users you contact may block you.
The third option, in my opinion, is the right one. You should know, in fact, that in the infinite world of Telegram bots, there are some that allow you to meet users anonymously and securely. These are users who launched that bot and who, like you, are looking for unknown people to chat with.
These bots are currently the best choice among the best secret chat applications. Thanks to them it is possible to hide your identity on Telegram. Yes, you did it right: neither your username nor your phone number will be shown to others. Obviously, even you won't be able to spy on the details of the users you will meet through the bot. That is, unless you use alternative methods to track the contact.