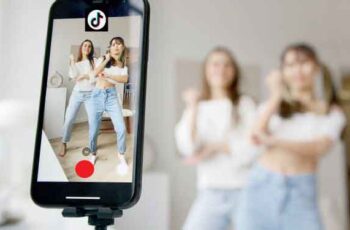 TikTok is one of the largest social media apps among young people. But is it safe for children? As a parent, it can be difficult to keep up with the latest social media trends. But TikTok not only became a viral sensation, it also made international headlines in 2020 for attracting the attention of the US government.
Is TikTok safe for children?
Since its user base is mostly under the age of 25, you are probably wondering, is TikTok safe for kids? Here's what to know about the app and what parental controls are available.
TikTok is a social media app that allows you to create short videos, put them to music and share them with the world. It is easy to learn how to use TikTok and is perfect for those with short attention spans as the videos are only 15 seconds or 60 seconds long. Of course, like any social media platform, you can browse, like, share and comment on posts, as well as follow channels you like.
While there are always trending categories like #HolidayMusic or # Covid19, you will find a variety of topics to suit your interests, such as pets, recipes, personal improvement, or fitness. TikTok is also testing a new educational initiative called Learn.
TikTok and children
For children, the entertainment value in this app is high. It has music, dancing, humor, and pets that are hilarious. Children like it because they can show their creativity and have fun watching their friends.
For teens, it's a great way to express themselves, share interests, and find funny clips of others. But due to its public and online nature, it's common for parents to wonder if it's safe for kids to use.
TikTok age limit
While TikTok is popular with young people, that doesn't mean the app is suitable for kids of all ages or very young children. If you're curious about TikTok's age limit, account holders must be at least thirteen.
When it comes to familiarity, you'll want to keep an eye on how your kids use the app. Because it has access to a lot of popular music and anyone can create videos, it is possible for children to find inappropriate content such as profanity and suggestive material inappropriate for their age.
As with any platform, there are always risks associated with sharing personal information, cyberbullying opportunities, and potential exposure to dangerous behavior.
Before using any social media, parents and children should have open and honest conversations about the risks involved. But luckily, there are ways to make TikTok safer for kids.
TikTok Parental Control: Family association
If your younger kids use TikTok and you're worried, there are parental controls you can use. TikTok's Family Association settings help parents safeguard certain privacy settings on their young teen's accounts and allow parents to limit the amount of time they spend in the app.
You can find the Family Pairing setting in your account settings.
Go to the card Io and select the drop-down menu shown by three dots at the top right of the app.
In this menu Settings and privacy, scroll down to family-pairing. Here you can link your account and that of your child.
This does not serve as a surveillance tool. Rather, it allows you to set privacy settings for their account and restrict adult content. You can find out more about the different settings to enable and disable below ...
Privacy settings to make TikTok safe for kids?
For starters, since the default user is a public account, you may want to change your child's account to private. This way only common followers can see what they post. You can do this easily by clicking on Io and then on the three dots in the top right corner of your app. This will take you into the settings.
From the settings menu, click on Privacy. If you have a public account on TikTok, anyone can see your videos and follow your account. With a private account, users must approve other users before they can view and follow. Your followers can also see the videos you liked. You can choose to make the account private by moving the toggle switch to the right.
Scroll down the page Privacy to see more security options, such as:
Allow your videos to be downloaded: If you have already made your account private, this option will be disabled by default. Otherwise, you can check yes or no here.
Who can send you direct messages: you can choose between everyone, friends (followers) or none. However, anyone can reply to the messages you send.
Who can duet with your videos: One of the most popular features of TikTok is the ability to duet with other users. This means you can take someone else's video and play it alongside yours. For example, you could sing the same song as a friend or post a reaction to another person's clip. As a parent, you will probably want to limit this option to friends for your children.
Who can merge your videos- Similar to the Duet feature, Stitch allows you to cut scenes from others' videos and merge them with your own. Again, you'll probably want to limit this to just friends.
Who can view the videos you liked: You can decide if the videos you liked are visible to followers or if they are kept for your information only.
Who can comment on your videos: Choose from followers, friends or none.
Comment filters: This option allows you to activate a filter to limit spam or comments that could be offensive and, if activated Filter keywords, you can add specific terms to avoid.
Accounts blocked- Here you will see a list of accounts that you have blocked.
Time management on screen
If you are concerned about the amount of time your child will spend on TikTok, you can set a time limit.
From the page Settings, scroll down to Digital well-being> Management of time of use.
Click on Time limit and choose between 40, 60, 90 or 120 minutes.
Click the back arrow, then click the red button Enable screen time management down.
Create a passcode and click NEXT.
Confirm your access code.
The app has a default time limit of 60 minutes, unless you set another time period. When your child consumes his time, he will have to enter the passcode you have chosen to continue using the app.
Restricted mode in TikTok
When you enable Restricted Mode, you can reduce the chance of inappropriate content appearing in your children's feeds. All you need to do to activate it is to click Digital Wellbeing> Restricted Mode.
Then click the button Enable restricted mode. When you enable this feature, a Restricted Mode label appears at the top of the watch screen. If you find something unsuitable, go ahead and report it to TikTok.
Block a user
If you come across an account or content that you find inappropriate, it's easy to block that user from showing up in your child's feed. Just click on your account profile picture, click the three dots at the top right of the screen and click Block. A blocked account will not be able to send direct messages to your child or see anything on their profile.
If you accidentally block someone, go up Settings> Privacy> Blocked Accounts and click the button Unlock.
So, is TikTok safe for children?
As with any social media platform, there are risks involved, so TikTok should be used with caution when dealing with young teens. That said, adult supervision and safety features can make the app safer and more fun for kids.
Since privacy controls aren't perfect, some parents choose to share a TikTok account with their kids so they can monitor it more closely. Trying the app together could be a valuable opportunity to connect with your children and their friends.
Further Reading:
How to withdraw money from your TikTok account
The best tablets for children
How to protect your TikTok account
You have forgotten the Child Mode PIN on your Samsung Galaxy
How to make your TikTok account private in 5 steps