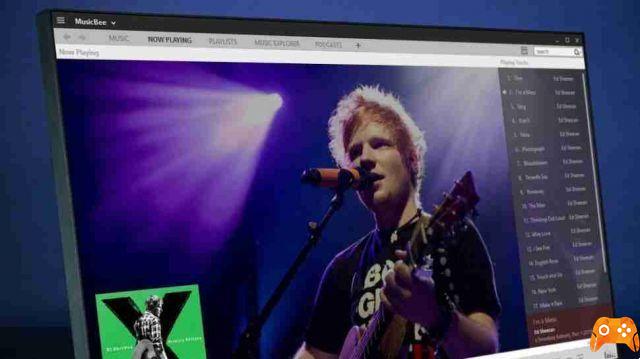 iTunes: the best free alternatives 2017 to manage your music on iphone.
Enjoy your music without the heaviness of Apple software
iTunes the best free alternatives 2017.
There are many positives to owning an iPad, iPhone or iPod, but there are also some negatives. For many people, fighting with iTunes is a major negative point. The software faces a lot of criticism for being big, bloated, and slow - but it doesn't have to be.
Whether you are using iTunes to listen to music on your computer, or just using it to keep your music collections in sync with your Apple device, there are plenty of free alternatives to choose from. Here we take a look at these tools and the great news is that most of them are completely free. In some cases, you may need to pay to unlock some advanced features, but for the most part it won't be necessary.
If you are tired of iTunes, read on to see what other options are available.
MusicBee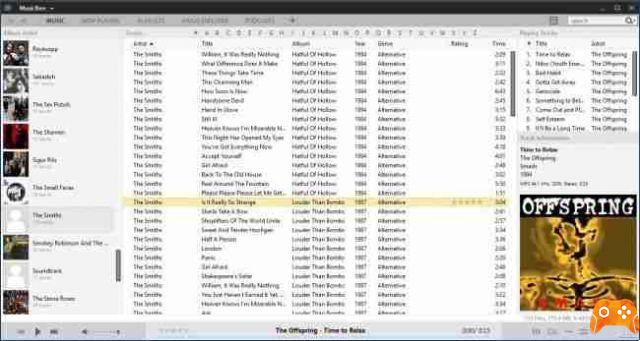 An amazing feature packed tool for playing and managing tracks - the best iTunes alternative
If you are looking for an application to tidy up and play your music collection, MusicBee is definitely a great choice.
The program has a similar structure to that of iTunes. From the main panel you can control the playlist, while from the side panels you can browse files, perform searches, view the cd cover and much more.
MusicBee supports a wide range of audio formats, including MP3, OGG, WMA, AIFF, ALAC, APE, BWF, CDA, FLAC, M3U, MP4, PLS, TTA, WAV, TAK and SPX.
Also, you can edit the information in the ID3 tags or rate the different tracks.
As if that weren't enough, the program contains an audio format converter, a CD ripper and the ability to search for song lyrics. In a nutshell, it is a great application for listening to your favorite music.
Clementine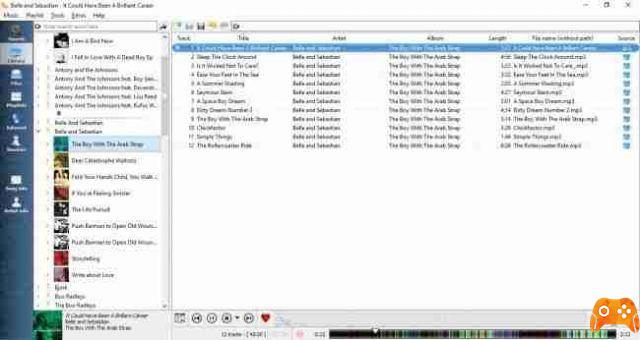 Another feature-rich music manager, with advanced tagging and support for mobile devices
Clementine it's a audio file player distributed free of charge under the GPL license, compatible with all common file formats and enriched with features such as automatic download of covers from the Internet. Also interesting is the ability to connect to online radio and to some streaming platforms such as Spotify, Grooveshark, Last.fm, SomaFM, Magnatune, Jamendo, SKY.fm, Digitally Imported and Icecast.
For each track played you can view detailed information about the author, band or disc, as well as the lyrics. The developer also ensures full support for the creation, saving and management of playlist in M3U, XSPF, PLS and ASX formats.
Those who own an iOS portable player (iPhone or iPod) or want to transfer songs and discs to a USB pendrive can do it directly from the software interface. Finally, we point out the interesting functionality that allows you to interact with the software through wiimote, the motion controller of the Nintendo Wii videogame console, provided you have installed the appropriate drivers on your computer. Simple to use and versatile, Clementine it is a good choice for those looking for a free solution dedicated to managing their music library.
MediaMonkey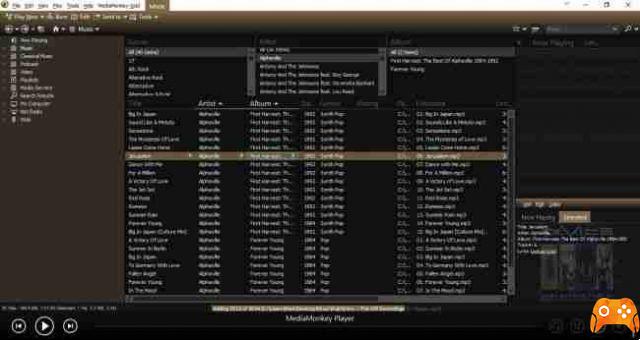 Keep even the largest music libraries in check, and sync with all devices.
Alongside giants like iTunes or Winamp, it's hard to find your own space. Even for solid and complete software like MediaMonkey. It is a player / manager of music libraries, with many new functions. Like the "fiesta" mode, which partially or totally blocks access to the program with a password, to prevent inexperienced hands from ruining a carefully designed lineup for a party.
During the first start, MediaMonkey scans the hard disk for music files and playlists to catalog. Library management offers many viewing options. The files are listed according to their location on the hard disk, playback information such as title, album and more. MediaMonkey separately catalogs the files that are missing this information and allows you to automatically complete them through an online database.
MediaMonkey can also be used to burn CDs / DVDs, listen to podcasts and Shoutcast and Icecast web radios. Obviously it is able to "rip" a music CD and to synchronize itself with portable players, including the iPod.
PodTrans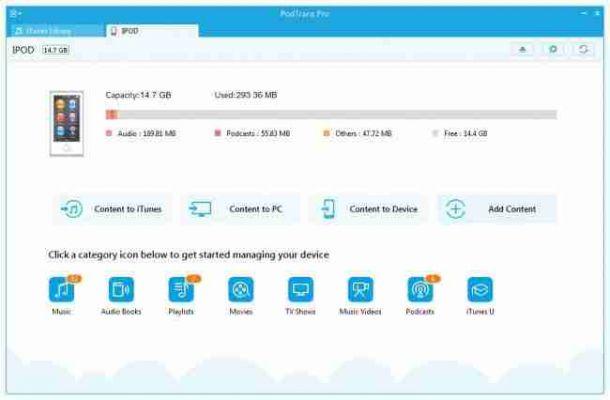 A streamlined, minimalist approach to music management for all of your Apple devices
PodTrans is an easy-to-use application that allows you to transfer music to iPod and create backup copies of audio files on your computer.
In comparison to iTunes' sync function, PodTrans was presented as faster and more reliable. It has a streamlined modern design that creates a comfortable environment for working. When you connect the iPod, the app identifies and displays a short summary regarding the model and capacity. The contents of the device are explored by navigating the menu on the left which reveals the music, podcasts and audiobooks in a cataloged view.
To select a category, click on it, then a series of options are made available. From this area it is possible to import, export and delete files. The import tool allows you to transfer files from your computer to your device, while the export option allows you to send your iPod contents to your computer.
Overall, PodTrans is a useful little application that can be used by anyone who needs a simple, yet effective tool to transfer files between their computer and their iPod.