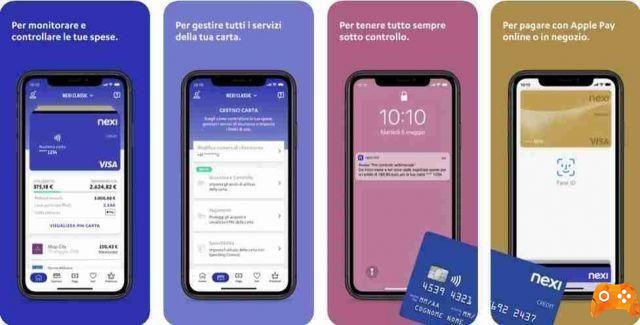 If you have and use one or more Nexi credit cards, one of the most renowned companies (formerly Carta Si) that manages more than 40 million cards and 25,5 billion transactions per year, you should know that there are new and more functional services to use them.
This is NexiPay which, by listing, allows you to:
monitor and control expenses,
manage all card services,
always keep everything under control,
pay with apple pay online or in the shop,
pay for purchases in installments,
have discounts every month,
win prizes on purchases.
Bondage Loans Pay
Nexi Pay is an app that allows you to manage your credit, debit and prepaid cards and, recently, it has been enriched with additional and exclusive digital features.
With Nexi Pay, using the cards is quick and easy, buying is safe even for small amounts, thanks to mobile payment solutions such as Apple Pay.
Track expenses
Consult the movements when we want
Check your total expenses or filter them by merchant and category
Receive security notifications, even with total weekly and monthly spending
Manage the cards
Manage security services to keep everything under control
Set usage limits
Pause your card for 48h
Pay for all purchases
With Apple Pay you can pay with your smartphone in all authorized points of sale in a faster and safer way
Top up your prepaid or mobile phone credit from the App
Payments in installments
Pay in installments over € 250 directly from your phone with Easy Shopping
Choose how many installments to pay
Rewards for purchases
50 € per month of discounts with ioSPECIALE
New awards every day with ioVINCO
Greater protection with ioPROTETTO
Exclusive products with iosi PLUS COLLECTION
Unique experiences with iosi PLUS EMOTION
Travel at exclusive conditions with iosi PLUS TRAVEL
Nexi Pay: what it is and how it works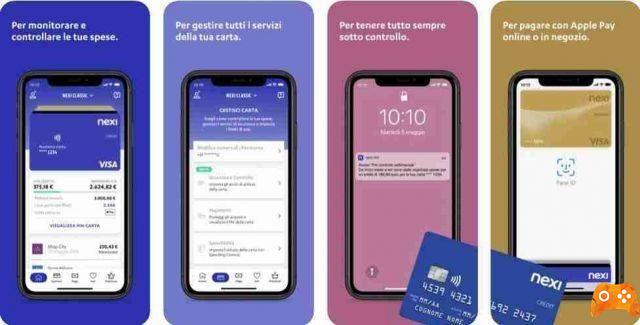 Now let's better explain what Nexi Pay is and how it works.
Nexi Pay is an application reserved for customers with a Nexi card or one of the partner banks. With Nexi Pay, as we have seen, all the functions of the Nexi cards can be managed. It has among its main tools various financial solutions such as credit, debit and prepaid cards on which the customer can rely.
To put it into operation:
Nexi Pay must be downloaded from the Google Play Store or the App Store,
at the first access we will be asked for credentials, a necessary step to be able to carry out any operation,
Once you enter Nexi Pay, you can choose various methods: how to set the limits for use of the cards, block them, monitor expenses by category or merchant, control all movements or set up security notifications on the smartphone,
for payments, Nexi Pay allows us to make transactions in stores enabled with Google Pay, Apple Pay and Samsung Pay, as well as top up the credit of the mobile phone and pay in installments with Easy Shopping,
in the customer promotions section there are prize games, vouchers, discounted catalogs, variable elements according to the type of card we have available.
Compatible with Bondage Pay
Nexi Pay is available as an app for both Android and iOS smartphones. As for the former, you need at least Android 5.0 Lollipop, or the latest versions. For iPhones, iOS 10 or later is required, and, for obvious security reasons, no jailbreak.
Negozi, an app compatible with Nexus Pay
Nexi Pay is compatible with various payment apps and services. In addition to Google Pay, Apple Pay and Samsung Pay, the Nexi app also communicates with services such as Garmin Pay and Fitbit Pay, connected to the respective smartwatches and sportwatches of the two aforementioned manufacturers.
As for Garmin, all watches equipped with NFC technology are compatible with Nexi (Garmin Vivoactive 4 and earlier, Garmin Fenix ​​6 and earlier and some Garmin Forerunners). This means they can be used to pay on contactless POS. The same thing goes for Fitbit Pay, which makes contactless payments through Nexi with its smartwatches equipped with NFC chips.
As for compatibility with stores, Nexi Pay allows you to pay in authorized points of sale using your smartphone instead of a card, or pay directly on the web, just like any other type of credit, debit or prepaid card.
Banks and cards compatible with Nexi Pay
Nexi Pay is compatible with proprietary credit, debit and prepaid cards, but can also interact with other financial solutions provided by partner banks, including cards, the entire list can be found on the Nexi website: https: // www. nexi.com/chi-siamo/brand/banche-partner.html.
Nexi Pay security
Nexi Pay offers services that guarantee the security in the use of cards:
the Email Alert service which periodically provides information on the availability and movements made on your card,
service to receive a notice whenever a payment equal to or greater than 2 euros is made,
if the payment is not recognized, the user can request the immediate blocking of the card directly from the application,
SMS security services for movement alerts,
3D Secure for the protection of your online purchases which requires you to use an identification phrase and the 6-digit dynamic security code,
to protect against phishing and the CV2 security code.
NexiPay su Huawei
Among the news on NexiPay, it is news from a few days ago, there is that the app is finally available on the AppGallery.
Nexi is therefore part of the apps domiciled within the Huawei ecosystem. Over the last few months some very important applications have been launched on the company's store, and Nexi, PayTech engaged in the digital payments market, has finally published the Nexi Pay application on the AppGallery.
All users with Huawei P40, Huawei Mate 40, Huawei Mate Xs, Huawei Mate 30 Pro, Huawei Y5P and Huawei Y6P, can finally manage their account and Nexi card directly from the official application.
Nexi executives celebrated the fact by declaring themselves satisfied with this further collaboration with Huawei which, after YAP, the mobile payments app, also makes Nexi Pay available on the Chinese company's devices. For Nexi it is a further step towards the digitalization of payment instruments, essential to accelerate the transition to cashless in Spain.
The Huawei Spain Group also commented positively on the novelty, defining it as a testimony of the "constant commitment of Huawei to guarantee the best user experience on all devices equipped with HMS".
The Nexi Pay application is immediately available on the AppGallery via the search tab, or from the web store via the link https://appgallery.huawei.com/#/app/C101454369.