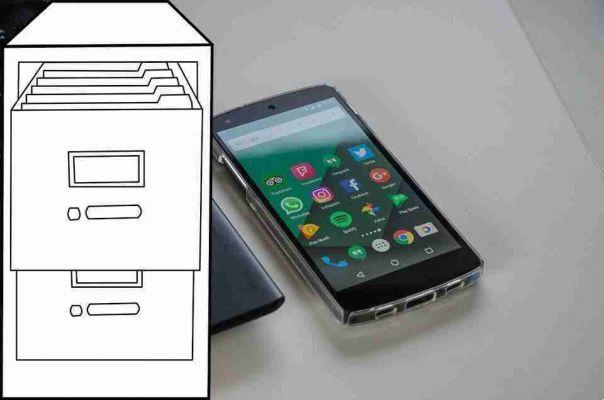 Best Android File Manager Apps of 2018. Android will come with a default file manager, although not all of them are good enough. If you are looking for an app with all the best requirements, these are some of the best android file management app that you should try.
The best Android file manager apps of 2018
Asus File Manager
It comes with a simple and aesthetically pleasing design. Asus File Manager has a beautiful category screen that allows you to organize and label your files. It is compatible with a number of cloud storage services such as OneDrive, Google Drive and Dropbox, it is quite simple to link the account and manage it directly. It also allows you to compress and decompress rar and zip files and enables wireless transfer between phone and PC. Asus File Manager is completely ad-free.
ES File Explorer
ES File Explorer is one of the oldest and most reliable file managers on this list. It would be number one if only it were ad-free. If you don't like ads, you can always buy the pro version. However, the free version is quite good and you can always find a way to block ads on your Android device.
It comes with built-in viewers and players for various file types so that you can watch videos and play music directly from it. There is also a task manager where you can close tasks and free up memory on your device.
It supports rar and zip compression / decompression and even comes with its own note editor. It supports cloud storage, Bluetooth file search, remote file access, wireless PC file transfer, SD card analyst and other features.
File Browser by Astro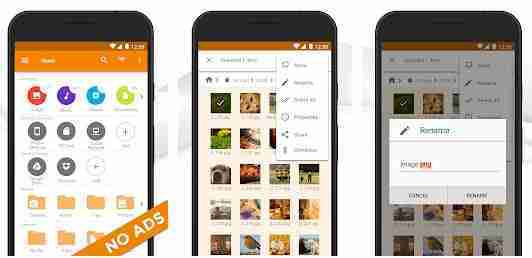 The first thing you see when you go to the Astro File Browser Google Play page is "No Ads". This banner flows through its icon as a corporate motto. So for anyone who wants a great, ad-free file browser, look no further. In addition to helping you organize your files through its file manager, it comes with a handy memory cleaner. It allows you to compress and decompress files in rar and zip formats. You can also save settings, files and folders. It comes with its own media player which allows you to play videos, music and browse smoothly through your image collection and allows you to manage your cloud storage.
X-Plore File Manager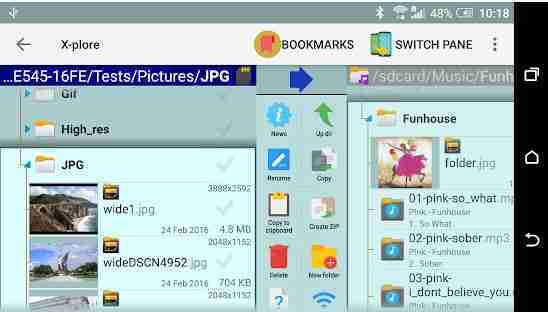 What makes X-Plore unique is the ability to manage Windows at the same time by providing a double browsing pane so you can copy files and compare two folders. On top of all this, it allows you to see the APK files inside and allows you to compress folders into APK packages. It has a disk map that lets you see which files are taking up the most disk space and comes with its own PDF viewer. You can manage files wirelessly from a PC's web browser. It comes with access to cloud storage and a video player that allows for subtitles.
Total File Commander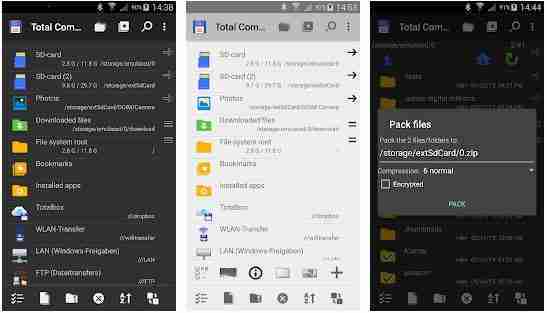 Total File Commander has a simple yet powerful user interface. Some people may find it anachronistic and a little familiar, but it's as good as its Windows counterpart and gets the job done. You can add more functionality using plugins. It has a media player that can stream directly from LAN, WebDAV and cloud plug-in. You can add to favorites and save folders as shortcuts. For those who have rooted devices, it has a powerful root explorer.