EA Sports released Team of the Week (TOTW) number 19 cards at 32pm last night. Let's find out together!
The announcement of the new one comes directly from the Electronic Arts social channels Team of the Week to the intent of FIFA 21, in Ultimate Team mode. Unlike in the past, there were no announcements at 16 pm, but the official press release arrived directly, coinciding with the release of the players inside the packages, at 19 pm yesterday evening, Wednesday 5 May. For a whole week it will therefore be possible to find in the packages of Fifa 21 the cards of the TOTW number 32, up to the release of the next group of TOTW cards. Among the most important players we certainly find the Premier League duo Aubameyang and Havertz, but also the very solid defender of Real Madrid, Eder Militato. Space also for Serie A, with Advice (Sassuolo) and Chanaloglu (Milan).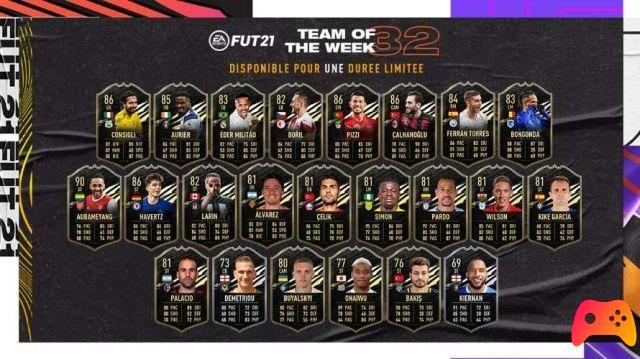 Let's see together which players make up the Team of the Week:
• Andrea Consigli (Sassuolo)
• Serge Aurier (Tottenham)
• Eder Militao (Real Madrid)
• Boril (Slavia Prague)
• Pizzi (Benfica)
• Hakan Calhanoglu (Milan)
• Ferran Torres (Manchester City)
• Theo Bongonda (Genk)
• Pierre-Emerick Aubameyang (Arsenal)
• Kai Havertz (Chelsea)
• Larin (Bestiktas)
Recall that Fifa 21 is available for PlayStation 4, PS5, Xbox One, Xbox Series X / S, PC, Nintendo Switch and Google Stadia.
► FIFA 21 is a Sport-type game developed by Electronic Arts and published by EA Sports for Xbox One, PlayStation 5, Xbox Series X, PlayStation 4 and PC, the video game was released on 09/10/2020
Version for PlayStation 5 from 03/12/2020
Version for Xbox Series X from 03/12/2020
FIFA 21 is a beautiful game that cannot be missing from your collection: we have decided to evaluate it with a 80%, if you are interested in learning more you can read the FIFA 21 Review