Good news for all FIFA 21 fans: Cantonà, Raul and Desailly Prime Moments SBCs are available yesterday!
The season stage of FIFA 21 has entered its hottest phase (and not just for the weather!). In addition to the TOTS, which are literally monopolizing the attention of fans, the SBCs are also holding the spot (Squad Building Challenge), more and more numerous and interesting.
And, of course, the most popular are those involving the Icon, that is the cards dedicated to the football legends of the past. With a somewhat surprising move, Electronic Arts has made available from last night and for the next 70 days three other Icons, unlockable through SBC, in their version Prime Moments, the one with the overall and the highest stats. We are talking, in this case, of three really strong players, two of which are absolutely in "meta".
The new players available are Eric Cantonà, Raul Gonzalez Blanco and Marcel Desailly, but beware: unlocking them won't be easy at all. Especially in the case of Cantonà (card priced at over 3 million credits on the market), in fact, to be able to complete these challenges it will take an important economic outlay. Fortunately, however, there is a lot of time ahead!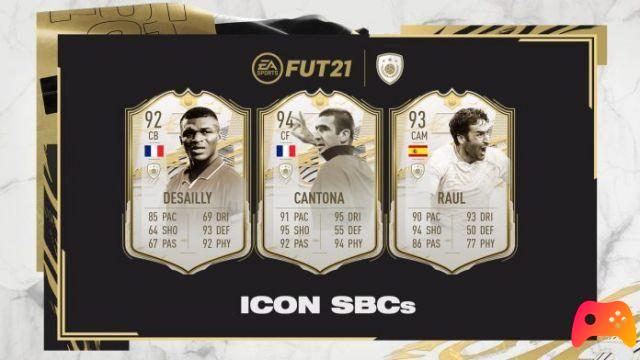 And which of these will you unlock? Let us know in the comments!
► FIFA 21 is a Sport-type game developed by Electronic Arts and published by EA Sports for Xbox One, PlayStation 5, Xbox Series X, PlayStation 4 and PC, the video game was released on 09/10/2020
Version for PlayStation 5 from 03/12/2020
Version for Xbox Series X from 03/12/2020
FIFA 21 is a beautiful game that cannot be missing from your collection: we have decided to evaluate it with a 80%, if you are interested in learning more you can read the FIFA 21 Review