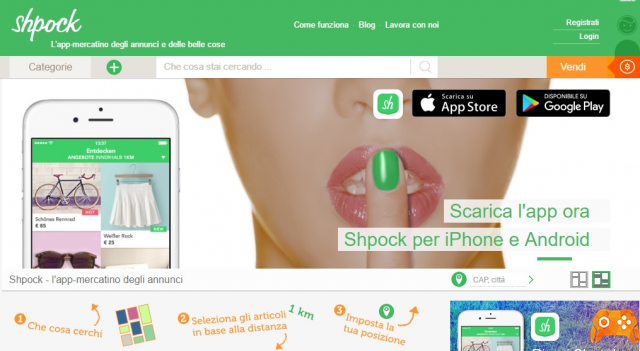 Shpock app.A virtual walk through the images that make up a neighborhood flea market.
Shpock app What it is
It's Shpock, the new shopping app. It has over 10 million users and is among the most popular in Europe. In Spain it is rapidly conquering vintage and thrift lovers. More than 70% of users are under the age of 35.
The announcement is disseminated on social media and there is the possibility to set alerts for products of interest. Users can also purchase Premium services to highlight the article and further attract the attention of potential buyers. Once a buyer identifies an item he is interested in, he can contact the seller, negotiate the price and define the purchase details via his smartphone.
Launched in September 2012, Shpock has lured in four years more than ten million users in the UK, Germany, Austria and Spain.
For several months it has been the most downloaded in the "shopping" section of the Apple and Android app stores. Ads are shown to the user based on geographic location. In this way you can access a large variety of items on offer in the area of ​​interest, discover vintage markets or earn money by selling everything you no longer need.
IPhone Link: Click here
Android link: Click here